The broad area of low pressure moving over Puerto Rico and Hispaniola keeps producing areas of heavy rain with pockets of gusty winds this morning, but there is still no defined center of circulation. It is basically centered Southeast of the Turks and Caicos Islands. Gale force winds of over 30 miles per hour were also detected to the north of Puerto Rico and US Virgin Islands.
Strong Upper Winds are keeping it in check, but they will relax over the next 24 hours. By the weekend conditions will be favorable for further growth. If it can survive until then, there's still chance it may become a depression or a storm. It should be near the central or Northwestern Bahamas at that time.
The enhanced satellite imagery shows the blob of rain slowly moving west-northwest. Most of the storm activity is far from the actual area of lowest pressure.

It will continue dumping rain over the region leading to flooding, land and mudslides from Puerto Rico through Dominican Republic and Haiti.

Advisories for the Islands:

Puerto Rico:

May see some street flooding but as of 8 am, no warnings have been issued.

Dominican Republic:

Flash Flood and Landslide warnings

for the provinces of La Altagracia, Hato Mayor, El Seibo, San Pedro de Macorís, Puerto Plata, Monte Plata, Sánchez Ramírez and Espaillat.

Street Flood Advisory

for San Cristóbal, Peravia, Azua, María Trinidad Sánchez, La Romana an Gran Santo Domingo.

Haiti:

Rain as well with a good risk for flooding,but so far no weather alerts issued.

SE Bahamas:

No rain yet but squally weather should move in later today. It will gradually increase through Friday. Expect some gusty winds from time to time.

Chances for growth:

Very warm waters lay ahead for this disturbance as it treks towards the Bahamas, this is the reason why NHC is keeping the chances for development high. Warm waters of 80 degrees and above, is the fuel these tropical systems need to grow.
Water temps in this area register between 85 and 90 F. It can develop anywhere in the area highlighted in red over 5 days.
Everyone from the Bahamas through South Florida should keep their eyes on this. The intensity forecasts vary greatly.
It may may be anything from a rainmaker to a tropical system in the days ahead.
Because of this uncertainty, we just can't pinpoint what its impacts may be. NHC is keeping its chances for development at 80%.
If it develops, where will it go?
Most models are in agreement it will continue to aim for the Bahamas and Florida. Two other hurricane hunter missions are planned for today.
The recon mission plan includes:
Find a center, if their is one
Detect wind speeds and pressure readings to confirm if it has gotten stronger
Provide atmospheric data to NHC for more accurate model runs
Unfortunately this nail-biting scenario will play out until the low makes up its mind. This is what the local NWS office in Miami is telling us:
At this point, there is enough confidence that deep tropical moisture will remain in place across the region, with continuing widespread showers and thunderstorms and possible breezy or windy periods through early next week.
The extended forecast will continue to be adjusted as the scenario for the tropical disturbance becomes more clear with upcoming model guidance.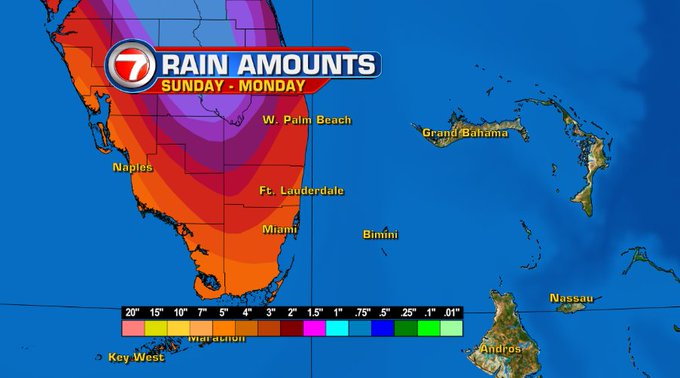 We may get a soaking. Some models place two day rain totals for our area at around 5 inches.
If this pans out it will surely lead to street flooding, specially in poor drainage areas.
As we get more details, we'll pass them on.