As of 5 pm Sunday:
Potential Tropical Storm Advisory issued for the Windward Islands.
A TROPICAL STORM WARNING has been issued for Barbados, St, Vincent, and the Grenadines for the possible impact of tropical storm force winds over the next 36 hours.
This is new this year. NHC can start issuing advisories even before a system organizes. This can give communities the extra time they need to prepare.
The area of disturbed weather is roughly 815 miles ESE of the Windward Islands and moving rapidly towards them at around 23 mph. It is expected to get stronger and could reach tropical storm status on Monday as it nears the islands.
All interests across the Windward Islands and Northern Venezuela should prepare accordingly.
2 PM UPDATE: Latest satellite observations show the broad area of low pressure in the Western Caribbean Sea
DOES NOT
have a well defined center. The Recon mission for this afternoon has been cancelled. This area of clouds and rain is still producing heavy downpours and still has a high chance for development over the next few days. Hurricane hunters remain on stand-by for Monday.
Sunday morning post:
There is a high chance we may be tracking something in the Gulf this coming week. As of Sunday morning, the National Hurricane Center (NHC) is following a broad area of low pressure sitting in the Northwestern Caribbean Sea. It is slowly moving into the Gulf of Mexico and regardless of development, it will dump plenty of rain. NHC is giving this feature a 90% chance for development over the next 5 days. A hurricane Hunter plane is scheduled to fly into the area Sunday afternoon if needed.
This enhanced satellite loop detects the areas of highest rainfall in bright yellows, oranges, and reds.
It is centered over Western Cuba, Gand Cayman, and the Yucatan Peninsula with plenty of rain coming down over the region.
We are looking for the possibility of a counterclockwise spin with this low. It has been trying to do that for the last 24 hours.
What we really need is to get the vital signs, specially surface winds and pressure readings. The only way we can do the is with a recon mission. Because NHC wants to Investigate this area further, it has been named INVEST93L.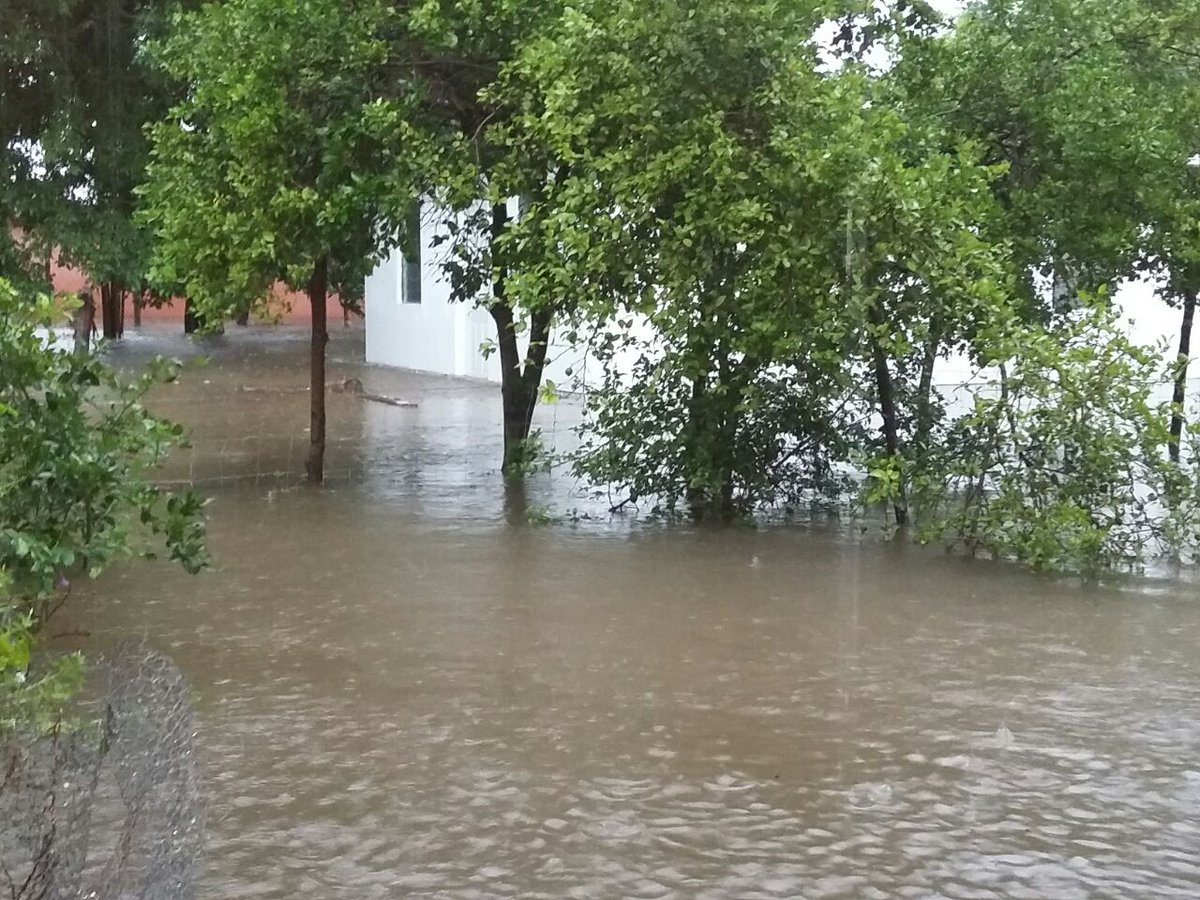 Image posted on Twitter by Jamaica Gleaner. Follow them for more pictures
Rain continues to be a big factor throughout the Western Caribbean Sea.
Jamaica had been under flood advisories throughout Saturday, and those may get extended if the downpours persist. The Jamaica Gleaner News tweeted pictures of flooded areas like this one showing the Milk River in Clarendon.
Grand Cayman, Western Cuba, and parts of Central America are also under the threat of rain as the system organizes and moves into the Gulf. The weather will continue to go down hill for them as well.
More models are issuing forecast tracks today, and at least on the short term, they are taking whatever develops into the Gulf, and then possibly aiming it anywhere between Texas. Louisiana, and Florida.
Keep in mind that models need a good starting point to issue their forecast tracks and since nothing has developed yet, no good starting point means no good ending point.
Our long range outlook depends on whatever happens in the Gulf during the next few days. Even if a system develops and aims for Louisiana or Texas, we may get some downpours.
If it takes a turn towards Northern Florida, more rain may be expected. This is a good time to review your plans and make sure you have everything you need in case Mother Nature throws us a curve ball. We'll keep you posted.
Another area of low pressure is sitting roughly 1000 miles ESE of the Windward Islands and aiming for the are at around 20 mph. It has a 50% chance of becoming a depression or a tropical storm over the next few days. A recon mission has been planned for Monday to get a better idea of the development process within this low.
As mentioned above, these are preliminary outlooks and until we get a fix on a possible center they are not set in stone. These early tracks show a consistent movement to the middle of the Caribbean Sea. If it develops, it could impact everyone from the Windward Islands to Jamaica, Haiti, Dominican Republic, Cuba and Grand Cayman. Its impossible to tell how strong or weak this may be as it tracks through the region so please monitor closely.
I'll be hoping for the best.